Sprites
A Sprite component is a simple image or flipbook animation that is displayed on screen.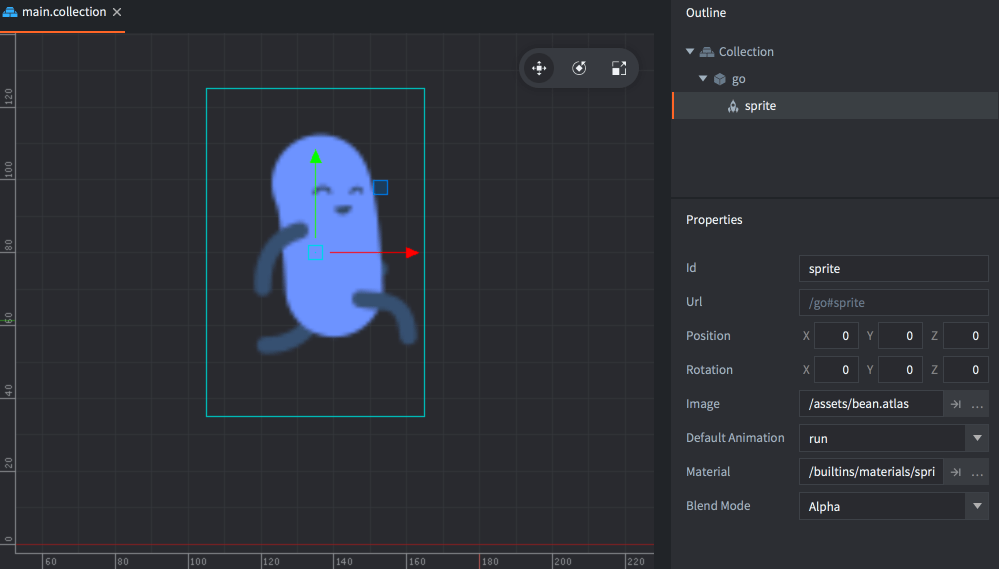 The Sprite component can use either an Atlas or a Tile Source for it's graphics.
Sprite properties
Apart from the properties Id, Position and Rotation the following component specific properties exist:
Image

The atlas or tilesource resource to use for this sprite.

DefaultAnimation

The animation to use for this sprite.

Material

The material to use for rendering this sprite.

Blend Mode

The blend mode to use when rendering this component.
Runtime manipulation
You can manipulate sprites in runtime through a number of different functions and properties (refer to the API docs for usage). Functions:
sprite.play_flipbook() - Play an animation on a sprite component.
sprite.set_hflip() and sprite.set_vflip() - Set horizontal and vertical flipping on a sprite's animation.
A sprite also has a number of different properties that can be manipulated using go.get() and go.set():
cursor

The normalized animation cursor (number).

playback_rate

The animation playback rate (number).

scale

The non-uniform scale of the sprite (vector3).

size

The size of the sprite (vector3) (READ ONLY).