Trigger
Setup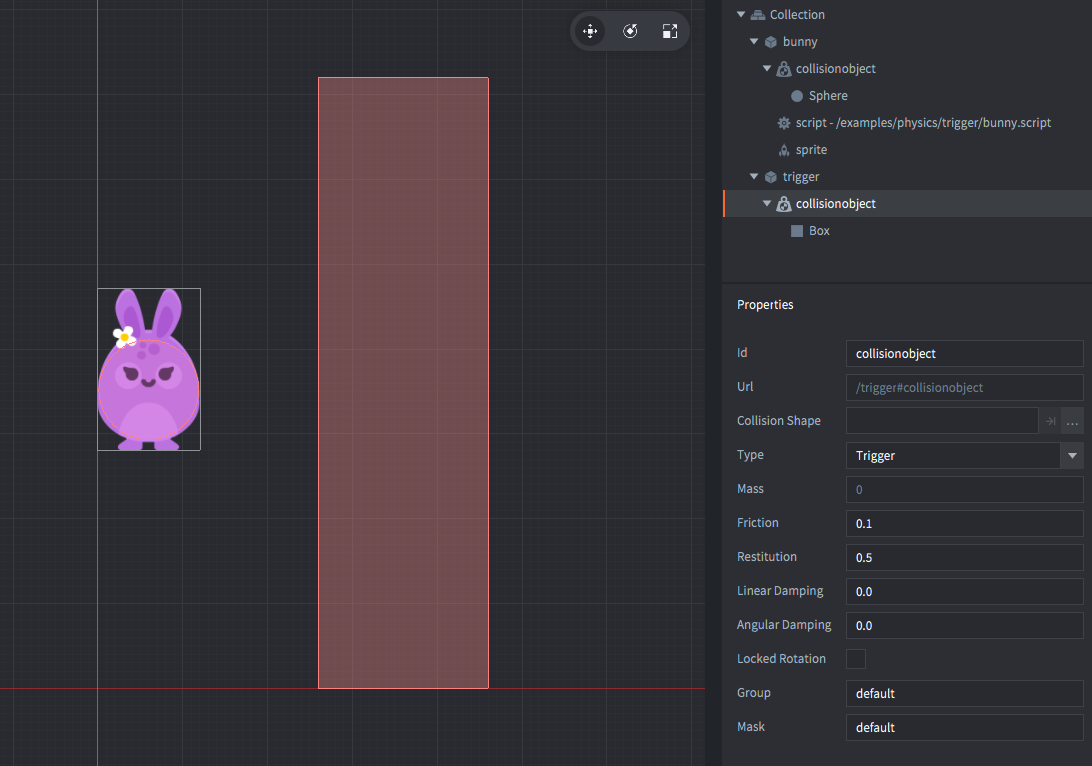 The setup consists of two game objects.
trigger

The invisible trigger. Contains:

A Collision object component. The Type is set to TRIGGER. A box Shape is added to the components.

bunny

The bunny. Contains:

A Sprite component with the bunny image.
A Collision object component. It has Type set to DYNAMIC. A sphere Shape matching the sprite image is added to the components.
A Script component that animates the bunny's position and reacts to physics messages when interacting with the trigger.
Scripts
bunny.script
function init(self)
	local pos = go.get_position() -- <1>
	go.animate(".", "position.x", go.PLAYBACK_LOOP_PINGPONG, pos.x + 600, go.EASING_INOUTSINE, 6)
end

function on_message(self, message_id, message, sender)
	if message_id == hash("trigger_response") then -- <2>
		if message.enter then -- <3>
			msg.post("#sprite", "disable") -- <4>
		else
			msg.post("#sprite", "enable") -- <5>
		end
	end
end

--[[
1. Get the current position, then animate the position's x component
   looping in a ping-pong manner against an offset of 600.
2. The physics engine has detected that this game object contains
   collision object components that have collided with a trigger.
3. The `message` data table contains a field `enter` that is set
   to `true` when the trigger event signals that the trigger shape
   was entered. On exiting the trigger, this field is `false`.
4. Disable the sprite when the trigger is entered
5. Enable the sprite again on exit.
--]]
If you want to play with these examples, you can get the project on Github.
Do you want to see more examples? Why not write a few yourself and submit a pull request? We love contributions.
GITHUB