GUI-нода Pie
Pie nodes are used to create circular or ellipsoid objects ranging from plain circles to pies and square donut shapes.
Создание ноды Pie
Кликните ПКМ на папке Nodes в Outline и выберите Add ▸ Pie. Новая нода Pie будет выделена, и теперь можно изменять ее свойства.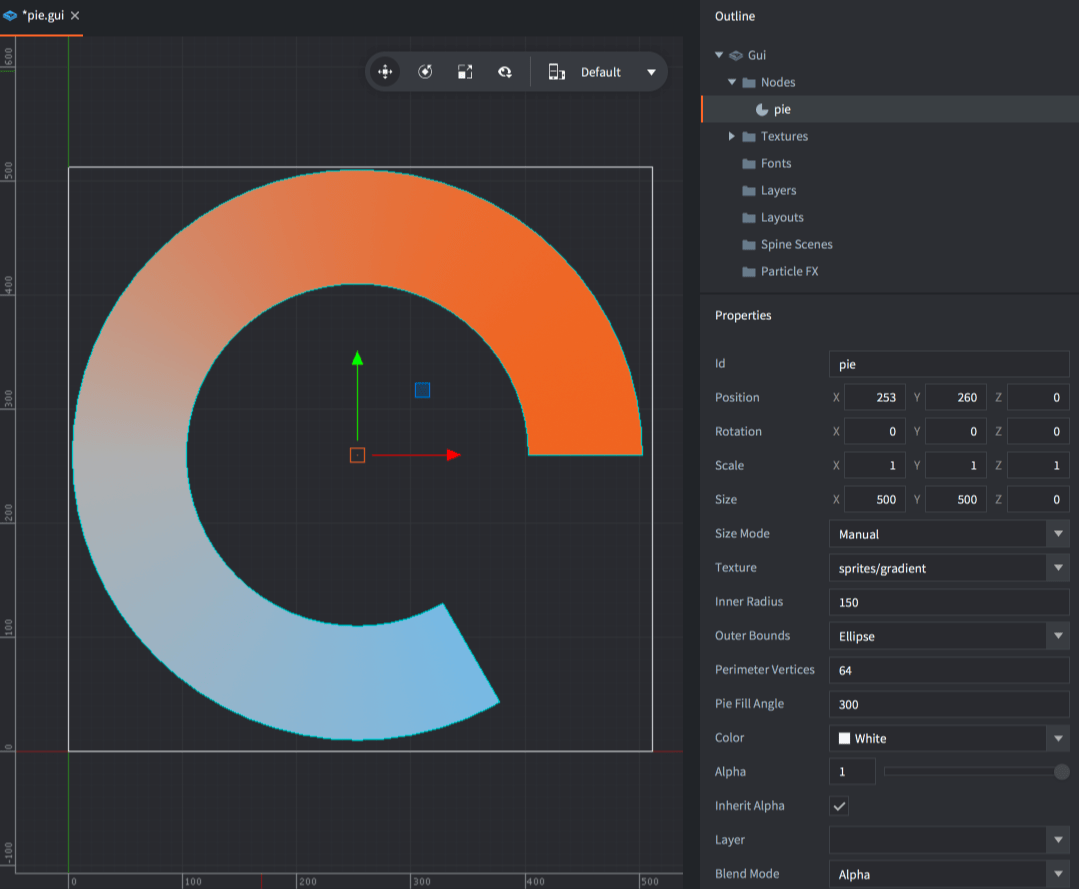 Следующие свойства уникальны для ноды Pie:
Inner Radius

Внутренний радиус ноды, выраженный вдоль оси X.

Outer Bounds

Форма внешних границ ноды.

Ellipse — расширит ноду до внешнего радиуса.
Rectangle — расширит ноду до ограничивающей рамки ноды.

Perimeter Vertices

Количество сегментов, которые будут использоваться для построения формы, выраженное как количество вершин, необходимых для полного обхода периметра ноды на 360 градусов.

Pie Fill Angle

Доля заполнения. Выражается как угол против часовой стрелки, начиная справа.

Если для ноды задана текстура, изображение текстуры накладывается плоско, при этом углы текстуры коррелируются с углами ограничивающей рамки ноды.
Воздействие на ноду Pie в рантайме
реагирует на любые общие функции манипуляции нодами по настройке размера, пивота, цвета и так далее. Существует несколько функций, предназначенных только для ноды Pie:
local

 

pienode

 

=

 

gui

.

get_node

(

"my_pie_node"

)





-- получить внешние границы




local

 

fill_angle

 

=

 

gui

.

get_fill_angle

(

pienode

)





-- увеличить количество периметральных вершин




local

 

vertices

 

=

 

gui

.

get_perimeter_vertices

(

pienode

)




gui

.

set_perimeter_vertices

(

pienode

,

 

vertices

 

+

 

1

)





-- изменить внешние границы




gui

.

set_outer_bounds

(

pienode

,

 

gui

.

PIEBOUNDS_RECTANGLE

)





-- анимировать внутренний радиус




gui

.

animate

(

pienode

,

 

"inner_radius"

,

 

100

,

 

gui

.

EASING_INOUTSINE

,

 

2

,

 

0

,

 

nil

,

 

gui

.

PLAYBACK_LOOP_PINGPONG

)